my Covid-19 Kit
First of all I am not a medical doctor, the following contents are just my opinion based from my personal experience that I would like to share with you guys.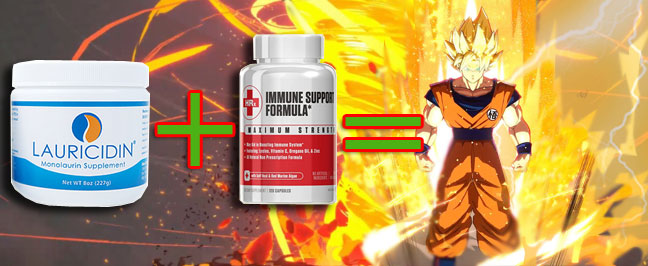 I used to dread Fall / Winter and the dreaded flu season. After going to the doctor and looking at the different test that they do. I realized that they usually try to look for Streptococcus bacteria and Epstein–Barr virus in your blood before they issue you an antibiotic drug.
Trying to resist prescription drugs as much as I can, I bumped into a natural supplement called Lauricidin. It's a name-brand that contains Monolaurin, a naturally occurring substance found in coconuts and breast milk that has a strong effect against certain fungi, bacteria and viruses by stripping it off its outer shells or envelopes, making the virus unable to attach itself to healthy cells and become super-vulnerable against your immune system. It is super effective against herpes, epstein-barr and most "probably" the corona virus since they all work with the mechanism of their envelopes. Please note though that the rhinovirus is a non-enveloped virus and the Monolaurin's effect on it can be somewhat questionable.
Stacking Monolaurin's potency for disabling viruses with the powerful Immune-Support-Formula (another name-brand), IMHO, makes you a Super Saiyan against most viral infections. I have been taking these supplements for around two years and I have not had any serious flu and cold since then.
Lauricidin offers 3000mg of Monolaurin per serving while Immune-Support-Formula offers 2000mg Vit C, 75mg Zinc, 2mg Copper plus a mix of other stuffs they call "rescue blend" that contains Lysine, Oregano Oil, Bee Propolis, Olive Oil (from leaf), Red Marine Algae and Prunella Extract per daily serving.
Every now and then, I also find Liposome Vitamin C to be a good substitute added with any gym vitamins that include a high dosage of Vitamin D3 ( I suggest supplement from PrimeMale for men, super high D3 ).
I also think, that by carrying a disabled virus, you are actually helping your immune system be prepared from the mass invasion of a real one. And in my fantastical imagination, by unknowingly infecting others with a disabled virus you are helping their immune system be prepared for the real one as well. Proper hydration is key as well and I heard that chewing gums are actually helpful because the virus cannot survive your gastric juice, so if you keep on swallowing and chewing the less the probability the virus would go up your nostrils down to your lungs.
Of course, prevention is always better than cure, so social distancing, proper hygiene and good mental and emotional state should always be top priority during these strange times of the Covid-19.